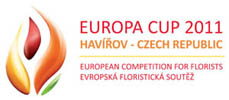 Dutch Creations is proud to announce it is one of the official main sponsors of the European Championship for Florists in Havirov, Czech Republic. This tournament will take place on the 2nd and 3rd of September 2011. Dutch Creations is deeply committed to provide high quality varieties to all designers taking part in the two final secret cases in the competition. Next to this, Dutch Creations will report live from the venue and hand out the People's Choice Award.
Dutch Creations

Dutch Creations comprises five leading breeders in The Netherlands Anthura, Corn Bak, Fides,
Van den Bos and Schreurs. Their shared portfolio includes a beautiful, wide range of cut flowers and pot plants
such as roses, lilies, Anthuriums, Phaleanopsis, gerberas, Chrysanthemums, Bromelias and Calandiva®.
Dutch Creations finds it important that top designers can work with the newest and highest quality of flowers and plants.

Shared passion

The participating designers in the tournament are challenging for the title of European champion 2011. The championship has got 19 competitors from 19 different European countries. Each candidate will put in a lot of efforts and energy realizing wonderful and high level designs. Their inspiration and passion for flowers and plants is shared by Dutch Creations.

In this competition, Dutch Creations offers products for the final secret cases. The flowers and plants in the central presentation area are supplied by Dutch Creations. With this way of sponsorship, Dutch Creations stimulates and inspires designers with its hundreds of different varieties.


Live report

Together with the local organization and other main sponsor Smithers Oasis, Dutch Creations will report live from this major championship. During the event, we will update with photo's, video's and texts about all created flower art and the backgrounds of these designs. Via social media (
www.facebook.com/dutchcreations
and
www.twitter.com/dutchcreations
), our website
(www.dutch-creations.com/europacup2011) and digital newsletters, we will keep you up to date. Next to that, Dutch Creations, Smithers Oasis and the organization hand out the People's Choice Award.

Vote for your favorite competitor!
During the European Championship, everybody can vote on his or her favorite designer. The one who gets the most votes, will win the People's Choice Award. This prize is awarded separate to the highest jury score deciding who wins the European title.
From September
2nd
, you can vote on the Facebook page (
www.facebook.com/dutchcreations
) or Dutch Creations website (www.dutch-creations.com/europacup2011). Per e-mail address, you can vote one time. This means that every vote supports the popularity of each particular designer.